These are really a super easy, quick, cheap, and adorable craft! What more could a girl ask for? All I did was take a super cute digital scrapbooking kit and combine it with a few candles that came in a non descript tin with a lid. The candles were actually on clearance for 50 cents at the pharmacy. They are a delicious scent, they just were not much too look at is all.
Here is the cute Fall kit I used, from Traci Reed at Sweet Shoppe, image is linked.
All I did was measure around each tin with a soft tape measure, then I made a strip that long in Photoshop and decorated it and printed it out flat. These were going to get a lot of hands on use so I did not want anything sticking out or 3D that could get ruined easily. Then I measured the diameter of the top, made a circle in photoshop and decorated that as well. Then all I did was use my tape runner and over lap it on to the existing paper manufactured label. The end result is really cute and was an extra touch of Fall that I wanted for decorating!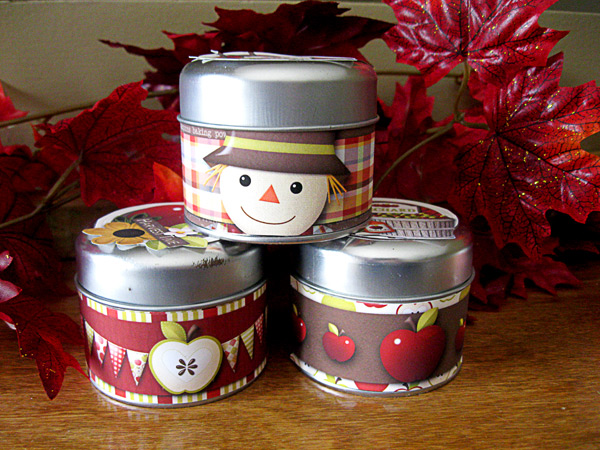 So, viola, easy peasy! Enjoy, and happy Tuesday!!!
Participating In: