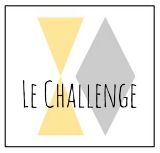 I have not been blogging this summer... mostly as I have just been having fun with my girls! I have been crafting though :) I took part in Le Challenge, for the first time. I liked the inspiration word "small" especially since I just finished the Schnitzel and Boo mini quilt swap quilt so I already had mini quilts on the brain.
I had seen a similar idea on Pinterest and fell in love with. My middle dd saw waves and I feel like that was pretty accurate so I named this one Midnight Waves.... like the moon up there is shining on the dark water at night.
I always keep the old jeans we wear out or outgrow so this was a perfect little craft for this. It is about 12 inches wide and I have already hung it in the downstairs hall. I love it. I think the edges need some more fraying but other than that I love it.
I am so glad I tried something new that I normally would have shied away from! Thanks Le Challenge, I am looking forward to seeing the next inspiration word soon!
-Tanyia
Participating in Fabric Tuesday at Quilt Story