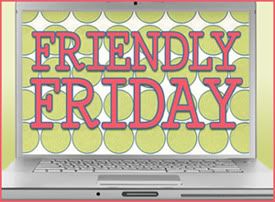 Morning ladies! I am so excited to have my first ever feature anywhere for any reason :) Yay! So if you are here from Friendly Friday... hi! Welcome! I apologize for your possible first post here to be a fail but, a las, I am not always perfect hehe.
Ok, so here is a bit of an interesting project. I had this amazingly wonderful idea in my head. Well...that is where that idea stayed... in my head, because what I came up with is so
not
amazingly wonderful.
I am sure you have seen the really cute twine wrapped letters, balls, just about everything. I wanted to do this, but I could not for the life of me find twine, and I decided I would wrap letters in yarn, I like the little fuzzies and thought it would be, you guessed it, amazingly wonderful! Well it sucked and here is why:
I started out with these items: wooden letters, paint, crackle, glaze, yarn and a paint brush.
I wrapped and wrapped and wrapped and wrapped and ... well, you get the idea. I ended up with this:
In case you are wondering what this is, this is a frustrated, potty mouth mess. What happened is all the
wrapping, trying to get the curve of the letters, it ended up just looking like a big yarn tumor. It was hideous.
Seriously, I am not being dramatic, it was awful. So...away with the yarn.
I figured, I have paint and crackle...I can just paint them! A ha! ... or not.
After about 900 coats of paint they were finally covered to my liking. The crackle did indeed crackle...microscopically. So if you looked at them REALLY close you could see the crackle. But from the couch, looking at the mantle, you saw plain brown letters. Wow...how exciting.
So I decided to add a few of the left over flowers from my paper flower wall hanging I showed you on Monday. Except well...I dunno I am so unhappy with this project. It just kinda sucks, and is lame!
This is where you come in, do you have ANY idea how on earth I can save this blah project!?
H E L P . . .