I am by no means a big photog nut like my amazing sister, however I do like to try and play with photos and bring out the best in them... especially facial close ups! Then even better if they are cute kids! Anyway, here is a new meme from Ashley plus three.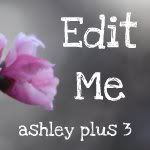 The button does not seem to be working for me so the link directly to the hop is http://www.ashleyplus3.com/2011/03/edit-me-2.html
The original photo straight out of the camera (SOOC)
and my edit of the photo...
Thanks for looking, any if you have any cc feel free to share!