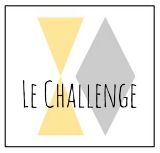 I just recently heard about the Le Challenge. I don't know, just another case of me living under a rock I guess! But this was a great time for me to hear about it as this month is " small " Of course with my love for mini quilts, this totally made my creativity spark! I want to make a wall of Minis in my house and so far I am off to a good start with 5 of them, but it is a half wall near my craft room and I want to go from top to bottom with them!
So... yay :) Le Challenge it is! I am going to make something just for me! Woohoo!
How long has it been since you made something just for you? I think it is something we do not hear often in the quilting world. It seems as quilters we are always doing for others, which is amazing and I am all about that. But every once in awhile, I wanna be all about me as well!
Have you joined Le Challenge yet? Are you going to? Pop over and check it out and join in this month!
-Tanyia